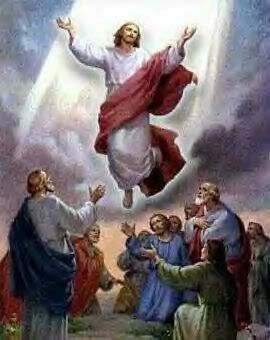 OUR NEW DESTINY
"So then the Lord Jesus, after he spoke to them, was taken up into heaven and took his seat at the right hand of God
(gospel).
My brother and sister-in-law have established a tradition with their grandchildren, that they come and spend a day with their grandparents. They do fun things together and go to a restaurant that caters to children. My brother said he loves spending those days with them but is not shy to add that he is happy when the day is over and the children go back home. I guess many of you experience that same feeling in your lives.
Not only children but many people come into our lives but for a time before they depart. Their coming into our lives is important and changes something in us. Yet, their leaving is also an important part. The silence of their absence helps us to better appreciate what effect their presence has had in our lives. It is no wonder then that Jesus makes a solemn event of his leaving his disciples. Their lives as well as ours have been changed in the coming of Jesus and his going reveals a new destiny for us all.
The mood of the Ascension is not one of loss but one of a great transition. The Solemnity of the Ascension teaches us three great truths of the presence of Jesus among us.
The first is the sense of a triumphant victory. Our whole life is a path to somewhere. Jesus teaches us that all we do to live a good life, all the struggles, the pain, the joys and exultations, as well as our daily coming and going is not an empty experience that isolates us from each other. Rather, everything we are and do contributes to what we are becoming. It is the triumphant highway to our Father's glory. We are formed and changed by the many ways we touch each other's lives. There is no insurmountable situation in life that will obstruct our destiny. Each turn of life leads us to something new, at times unexpected and unplanned in our choices of life, but true contributions to our being transformed into a new and different person we might have planned for ourselves. When in the midst of life's demands we strive to remain faithful to Christ, we too will come into the glory of the Father. Everything here on earth can be part of our path to glory. Every person and event is part of each our road to eternity.
The second truth of the Ascension is that heaven is our true destiny. As Thomas Aquinas calls it, heaven is our "patria", our homeland. When Americans transfer to other countries, they try to make their new environment some expression of America. They try to make their lives a bit like what they left behind. The same is true of those who come into our country: so we have Chinatowns and Little Italy, Mexican neighborhoods or as in our priest's residence, a little Filipino, Hispanic and Chinese mixture of our pastor's heritage.
So too, while we are away from our true homeland, we try to make our little "heaven on earth". Yet, there is no marriage, no kitchen, no home, no honor, no position that gives us complete satisfaction. It's like home, but it is not home. We continue to long for our homeland. The soul is secretly longing to return to the Father, source of our very breath and life.
The third truth of the Resurrection is the reason for Jesus' departure. Until now we have seen Jesus appear and disappear only to appear again. At the Ascension, Jesus left his disciples in a spectacular way to show that his appearances have come to an end. From now on, Jesus will live among us in a new way: through his word, through the sacraments, through the Church. This is the new way in which he comes to all of us. The same Jesus who ascended to the Father is still with us in our tabernacles and in our worship assemblies.
Now we recognize the presence of Jesus not through seeing, but through believing. In the Mass and the Sacraments, Jesus is present to us simultaneously in many places: in the cathedral standing in the heart of the San Joaquin Valley or in the heights of Yosemite in the spirit of the community of Our Lady of the Snows. He is as close as the nearest assembly of the faithful, building stones of the Catholic Church throughout the world.
The point for us today is that all we are and all we are destined to be is found in the Ascension of Christ. Christ's absence is his new presence in the world. He has begun a new relationship among us. For this we do not need to go to Jerusalem. We have only to come to Church. The Ascension assures us that it is the same Christ throughout telling us to "Go and teach all nations, I am with you always, until the end of the world." He lures us into his presence and sends us in his absence to be witnesses to all while we await our final destiny in God's presence. We, too, in our coming and going are being transformed into his glory. With Christ, we need to be in each other's presence and our leaving must awaken a new destiny in our journey for having found Christ in each other. Our journey in Christ is at once a welcome and a goodbye (God be with with you,)